Progressive distributor BVP
Progressive distributor BVP share quantities transported pump in a quantitative ratio, which is determined by the distributor to more outlets. Different quantities delivered inside distributor is achieved by the association of two outlets. Each piston performs its stroke and allocates the bearing predefined amount of lubricant, before the next working piston.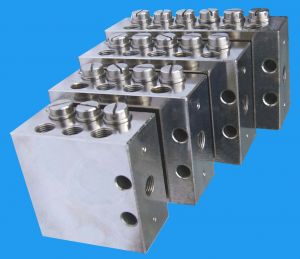 Advantages / Features
block construction
robust construction from nickel steel or stainlessu
wagered piston without soft seals and springs
safe and the exact supplying lubricant
registration of the piston using the proximity switch can be monitored lubrication cycle
removing the plug cap and the steel ball in the opening and closing one of the two outlets is achieved by internal connections lying opposite each other effluents
association of two adjacent outlets by installing external links
suitable for oil and grease NLGI class 000-2
Main dimensions (in mm)
Marking distributor

Product No.

Material:

steel-plated

Product No:

Material: Stainless Steel

Number of pistons
Max. number of outlets
A [mm]

Net Weight (approx.)

[kg]

BVP 3-power take
2533
3109
3
6
60
0,6
BVP 4-power take
2534
3110
4
8
75
0,8
BVP 5-power take
2535
3111
5
10
90
1,0
BVP 6-power take
2536
3112
6
12
105
1,2
BVP 7-power take
2537
3113
7
14
120
1,4
BVP 8-power take
2538
3114
8
16
135
1,6
BVP 9-power take
2539
3224
9
18
150
1,8
BVP 10-power take
2540
3225
10
20
165
2,0
The nominal delivery amount:
0,13cm3 (/ stroke / outlet)
ACCESSORIES
Crossport
Product No.: 2782
Use the assembly outer join (Crossport) can merge two adjacent pins and flow rate of the two swept volume (two T-pistons), three swept volume (one T-piste and one S-piston) or four swept volume (two S -pistons) drained from one outlet. T-piston can always be converted to S-piston by removing the plug cap and the steel ball from the hole. Care must be taken to ensure that the outlet of the lubricant on one side of distributor is closed.
Proximity Switch
Product No: 2725
Proximity switch records the movement of the piston and allows monitoring of lubrication cycles. The switch can be screwed onto any piston bore.
TECHNICAL DATA
Proximity switch
Operating voltage.......................................10V - 36V DC
Output.......................................................switch
Electrical design........................................DC PNP
Current carrying capacity t..........................permanently - 100 mA
...............................................................short term -100 mA
Coverage.................................................. IP67
Ambient Temperature.................................-25°C - +80°C
Operating pressure.....................................200 bar
Type of connection.....................................cylinder connector M12x1

MODULAR MSP DIVIDER VALVE
Flexible modular dividers MSP to oil and grease NLGI class 000-2
Precise monitoring, positive feedback
Simple to install and operate
Modular design for total flexibility
For grease or oil systems up to 3,500 psi (241 bar)
Lubricate up to 16 points per valve assembly
Choice of SAE, NPSF, or BSPP inlet/outlet connections
O-ring sealing prevents leaks, reduces maintenance
Individual valve outputs vary by a maximum ratio of 16:1
Built-in check valves preventlube re-entry and help keep lines full
Stackable design simplifies installation, adds flexibility
Available in carbon steel with standard yellow zinc dichromate plating.
Contact Lubriquip's factory regarding 316 stainless steel for corrosive applications
SPECIAL INLET SECTIONS
Allow zoning of large systems served by single pump and reservoir
Choice of inlet port activation: electric or pneumatic
Simpler to install, add or remove points
Choice of SAE, NPSF, BSPP (ISO 1179) metric (ISO 6149) connection
The nominal delivery amount:
0,082 cm3 - 1,311 cm3 (/ stroke / outlet)
TECHNICAL DATA
Standard stainless steel material
Optional .................. Material Type 316 stainless steel
O-ring seals .............(Standard) 70 Durometer Buna-N
(Optional) 70 Durometer Viton
Pressure (max.) ........3500 psi (241 bar)
Temperature (max.) ...Buna N Seal 200 ° F (93 ° C)
Viton gasket 3500F (177 ° C)
Lubricant oil or grease